Costuming in an uncertain world
Years ago Alex asked me to make a pair of Spider Jerusalem's "Live Shades" from Warren Ellis & Darick Robertson Transmetropolitan (1997-2002). I got as far as laser cutting a pair of lenses out of some samples that Acrylite had shipped to the university...
The lenses pictured above were the originals that I made when this project was first pitched to me, and they were lost many years ago.
I should thank them for handing out 2 in x 2 in samples they work great for small one-off projects! I assume that many companies got wise to this practice because they next batches of sample plastic we got were 3/4 inches or circles. This made it quite a bit harder to make anything useful with them.

I used this same technique of requesting samples when buying wholesale carbon fiber. Those 1ft x 1ft squares make great reenforcement for the hard-points and exposed corners of the buggy.
With the news media so much under fire these days Spiders' particular brand of Gonzo Journalism seems more relevant now then maybe ever in the past and as such this project came back into mind.
While the visiting American Visionary Art's Museum over the winter recess Alex and I stopped by "Sideshow". Because first of all you can't go to a museum without going to their gift shop, and second Sideshow is one of the best establishments for finding things you didn't yet know that you needed but definitely aren't going home without.
We came across a box of $2 of hundreds of reading glasses, and went hunting. Despite the cover image on this post Spider's shades actually appear frameless in some promotional material.
This is what I was looking for, a sacrificial pair of frameless glasses. Attempting to frabricate a frame around one round and one rectangular lens was way out of my wheelhouse and doing some kind of frankenstein-esque solution of cutting up two pairs of glasses did not seem like it would resolve well.
Anyway these should work great...
I scrounged up some green acrylic and pulled one of the dozens of sheets of red I had lying around and cooked up this:
Unfortunately the originals weren't held together with screws they were just press-fit with some barbed metal and hot-glued in place. So "removing" the lenses this was a destructive 1-time operation. After measuring Alex's face I cut two sets of each lenses color and drilled a couple holes and press-fit the lenses and nose bridge in.

This is a really long blog post to talk about a very simple project. But I think the results look good and this is how I discuss all my projects anyway.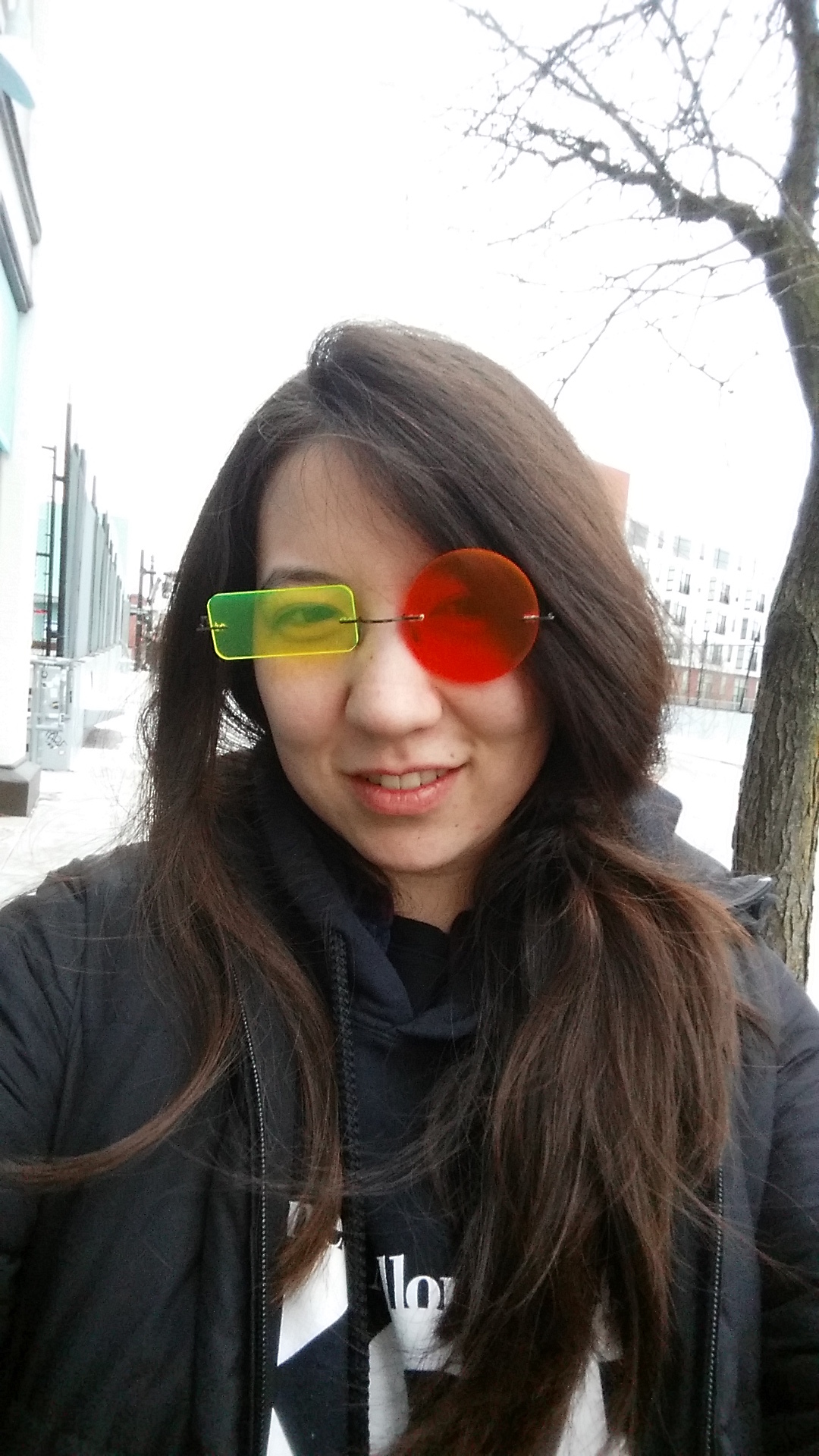 Happy customer.